Indoor Air Quality, Ventilation and Infiltration
Berkeley Lab is conducting a broad collection of research activities to inform the setting of ventilation standards that protect health and advance energy efficiency goals. To this end, we set out to answer the following questions:
Which pollutants represent chronic and acute health hazards from inhalation in residences?
Can the health risks and harm from these pollutants be quantified to facilitate prioritization of these hazards?
How can ventilation contribute to mitigating exposures and ultimately the harm caused by air pollutants in homes?
How can we control indoor air pollutant sources to cost effectively complement or reduce the need for ventilation?
How can air cleaning and filtration be used to reduce in-home exposures to both outdoor air pollutants and those generated in the home?
How can the required amounts of ventilation and filtration be provided cost effectively while minimizing energy use?
Healthy Efficient Homes
The following is a partial list of completed and ongoing Healthy Efficient Homes research projects. Links are provided to available reports and scientific papers.
Kitchen ventilation to minimize cooking-related contaminants in indoor air.
Characterization of ventilation systems and contaminant concentrations in new homes.
Development of methods and tools for indoor air quality field studies, including assessment of low-cost, cosumer-grade IAQ monitors.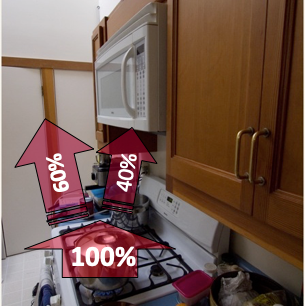 Addressing IAQ issues has become particularly important with recent COVID and wildfire health challenges. Our research promotes healthy and energy efficient homes through understanding of pollutant sources and analysis of opportunities to reduce health risks and disease burdens. A specific focus is the relative benefits and costs of kitchen ventilation, air cleaning, and smart ventilation.
We recently developed the "Capture Efficiency" metric for assessing kitchen ventilation performance and are collaborating with industry to implement this new concept, together with automation of kitchen ventilation. Having developed optimized algorithms for smart ventilation, we are working with industry on product development and demonstration projects on both the national and international stages. Lower costs of sensors has led to an explosion of consumer grade IAQ monitors and we have been performing field and laboratory evaluations of their performance as tools for homeowners interested in healthy indoor air as well as for controlling new ventilation and air cleaning technologies.
We have developed guidance for homeowners and practitioners for dealing with COVID and wildfires in homes, for example, with our colleagues at ASHRAE. We are also leading national efforts to systematically measure contaminants of concern in homes throughout the country through the Building America New Home IAQ Study.